Price:
$7,499

Inc

Engine Type:
Inverter
FIRST TIME FUEL INJECTION 
For the first time in a Honda generator, the EU70is is coupled with an advanced Electronic Fuel Injection system greatly increasing fuel efficiency. The EU70is will run for up to 18 hours on a single tank of fuel which will help your back pocket.

It features Honda's sine-wave inverter technology for smooth, high quality power flow, enabling the EU70is to safely provide power for frequency and voltage fluctuation-sensitive equipment such as laptop computers and communications equipment.

Unlike many noisy generators, the EU70is uses an innovative separate triple chamber construction for low noise operation of only 52dB(A)*, making it the quietest generator in its class.
EFFICIENT POWER
It starts 'first time every time' with convenient electric push button start and back-up recoil start, helping deliver reliable and consistent electricity.The EU70is has a maximum output of 7000W/240 volt AC, and is relatively lightweight for easy transportation (118kg).
EASY TO USE 
For simple operation and diagnostics, the EU70is features Honda's 'i-Monitor' liquid crystal display which provides operators with information about the generator's performance. Combined with a low oil alert system to protect its engine, and easy maintenance, you'll benefit from longterm cost savings. The EU70 runs on unleaded fuel in a sealed tank which allows the fuel less chance to go stale from sitting idle for long periods.
The fuel injection system also eliminates any messy fuel gunk which may be stuck in carburetor models meaning less hassle and more time for it to be put to work. Moving, storing and transporting the EU70 is made simple with a Two Push 'H' shaped fold-down handle and large diameter wheels. This ensures customers who need the generator for multiple purposes can move it with ease.
TECHNOLOGY
Throughout the decades, Honda has consistently designed and engineered 4-stroke technology that is without parallel. We believe engines shouldn't just be built to perform – they should do so with maximum efficiency and economy. That's the Honda Advanced 4-Stroke Technology difference.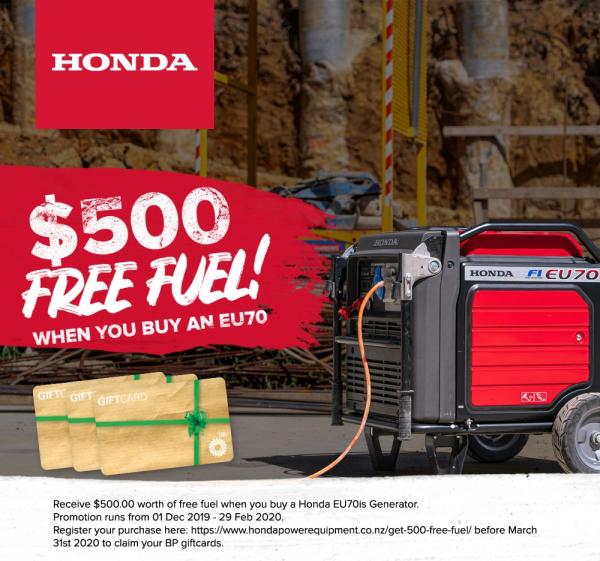 You will receive $500 worth of free fuel With every EU70 inverter generator purchased until 29th February 2020.
That's right, $500 worth of free fuel to use any way you wish!
If you have recently purchased an EU70 then click the button below and enter your details. You will be re-directed to our registration site: go.hondapowerquipment.co.nz.
At the end of each month during the eligibility period, we will send off your details to BP to get your fuel card sent out to you.
You must complete all the details on the form and it must be completed before March 31st, 2020.
**85 Hours of free power equation = $500 (free fuel) / $2.03 (avg price of 91 19/12) = 246 Litres / 2.9 (approx litre per hour usage) = 85 Hours
CLICK HERE TO ENTER YOUR DETAILS
Full competition terms and conditions.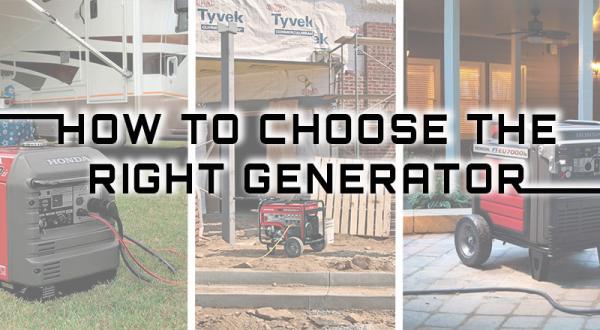 Finance promotion for a Limited Time
WARRANTY
This Honda product comes with a 4-year domestic warranty* and with regular servicing by a Honda authorised dealer and using Genuine Honda Spare Parts it will work hard for many years.
Contact us  or enquire below 
| | |
| --- | --- |
| Engine | GX390 |
| Displacement | 389 (cc) |
| Ignition System | Transistorized magneto |
| Oil Alert | Yes |
| Starting System | Electric |
| Stopping System | Ignition primary circuit ground |
| Recommended Fuel | Unleaded |
| Fuel (approx) | 2.9 (litres/hr) |
| Fuel Tank Capacity (liters) | 19.2 |
| Continuous Operating Hours | *18hr/6.5hr |
| SOUND POWER LEVEL (at LwA) | LwA 90dB(A)** |
| Condition | *With eco-throttle switched on at 1/4 output |
| Condition | **LwA refers to sound power level and is measured at rated load. This figure can only be compared to other LwA models. |
| Dimensions (LxWxH) | 848 x 700 x 721 (mm) |
| Dry Weight (kg) | 118 kg |
| Electric Starter | Yes |
| Maximun AC Output | 7000VA |
| Rated AC Output | 5500VA |
| DC Output (Generator/Charger) | N/A |
| Battery Charging | No |
| Frequency Meter | No |
| Volt Meter | Yes |
| Generator Type | Multipole field rotation type (inverter) |
| Rated Voltage | 240 (V) |
| Rated Frequency | 50 (Hz) |
| Fuel Gauge | Yes |
| AC Circuit Breaker | Yes |
| DC Circuit Breaker | N/A |
| Auto Throttle | Eco-throttle |
| Fuel Injection | Yes |
| Large Capacity Air Cleaner | Yes |
| Large Capacity Fuel Tank | Yes |
| Large Capacity Muffler | Yes |
| Pilot Lamp | Yes |
| Air Cleaner | Semi Dry Type |
| Parallel Operations Connection Ports | No |
| Parallel Operations Connection Cable | No |
| 4 Wheel Dolly Kit | No |
---
Enquire about this Power Tool